As we transition to spring, winter is hanging around… With all the recent snowfall, March is still a great month for Winter Adventures – it's a little warmer so you can make the most of all the outside activities.
Winter Activities
Keep up with the activities you've been enjoying and give winter a warm send off.
Browse all winter activities and get outside!
Don't miss these Dark Sky Adventures
The night sky has a way of stretching the limits of our creativity, it can ignite our imagination. Venture out at night and be rewarded with a beautiful light show from the northern lights. Check out this new Feature section on our website!
Enjoy St. Patrick's Day
Shop for your favourite leprechaun or gather with friends and enjoy some Green Sweets and Treats! Find great places close to you – or make it a roadtrip – to experience local food, drinks and shops.
Springbreak is almost here!
Get out of the city and enjoy affordable Family Getaways East of Edmonton.
Find over 1000 pages of Things to See & Do, right here on our website, including events and travel information for all areas East, Northeast and Southeast of Edmonton, covering over 50 communities across East Central Alberta.
Save on your Roadtrips by using the Savings Pass!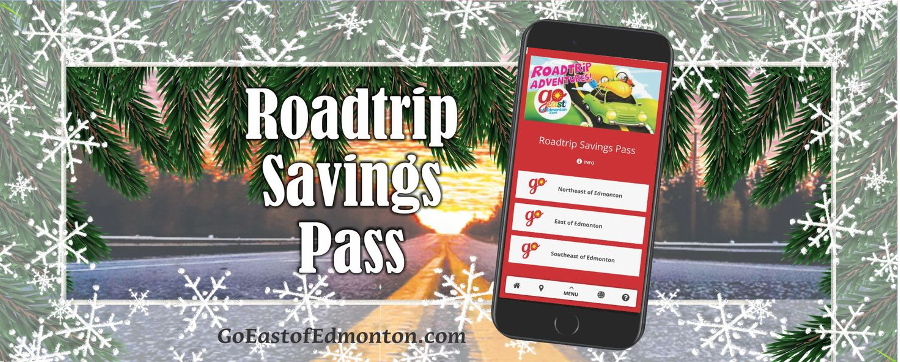 The Roadtrip Savings Passport is your guide to save more. When you Go Northeast, East and Southeast of Edmonton; you'll find great savings in every part of our region!
It's FREE to sign up and the more locations you visit…the more deals, discounts and prizes you can win!
Looking for more Trip Ideas in 2022?
Choose your Roadtrip and browse our Trip Ideas section with over 100 stories of great places to go! Check out trip ideas by season, or choose a region and see the recent stories.
The early bird gets the worm. Plan your Camping trips now with our complete guide to camping. Lakeside, Riverside, group, seasonal and full service camping available.
Plan your Affordable Family Summer Getaways – there are tons of events now on the website. Summer looks awesome with all kinds of great events, plus all the attractions and outdoor adventures opening up in 2022!